We consider ourselves specialists in this area, with a wide range of Isotopic Gases available.  Our product offering allows us to supply stable isotope labeled gases with a wide variety of packaging options and handling solutions to enable connection to any type of receiver.  Many stable isotope gases are kept in stock within the UK and can be delivered within 2-3 working days following receipt of your order.
Alongside the pure gases we also specialise in preparing custom isotopic gas mixtures to exact customer specifications.  These mixtures can be offered in a range of cylinder sizes to meet your needs, typically 0.4L lecture bottles, 110L disposable cylinders or 1L, 3L, 5L or 10L refillable cylinders.
In some cases ee can also offer gases with specific delta values.
Should you have any Isotopic gas requirement, please do not hesitate to request a quotation from us.
Please contact us for a quote or if you have any questions.
For more information on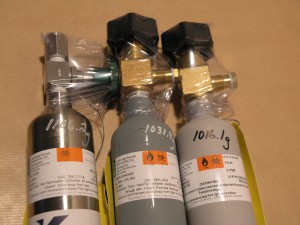 pure stable isotope gas packaging options click here.
---
Isotopic Gases
Product Search
---
Got a Question?
For information please start your enquiry below:
---