With the largest deuterated intermediate production capacity in the world we are able to supply all scales from research to commercial production. If this in an area of interest for you then please don't hesitate to contact us to discuss your needs.
The potential advantages of deuterated pharmaceuticals:
Improved metabolic profile. The improved metabolic profile may potentially reduce or eliminate unwanted side effects or undesirable drug interactions.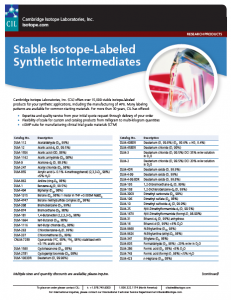 Improved oral bioavailability. Deuteration in some compounds has reduced the presystemic metabolism that occurs in the digestive track allowing more of the unmetabolized drug to reach its target.
Increased half-life. Deuterated compounds can have a slower pharamacokinetic affect extending the absorption  and distribution in the body. This may decrease the number of doses that a patient may require in certain time period compared to its non-deuterated counterpart.
---
Synthetic Intermediates for Deuterated Pharmaceuticals
Product Search
---
Got a Question?
For information please start your enquiry below:
---